---
WCHS values the human/animal bond, provides stewardship for homeless pets and promotes compassionate treatment of all companion animals. With your help we can make a difference. Learn more and get involved.
---
COVID-19 POLICY:
Happy New Year!
We were able to find ALL of our available cats and dogs homes for the Pawlidays!
We currently do not have any cats or dogs available for adoption (We will soon! Stay tuned on the website for new faces!) Since the population of animals in-shelter in our shelter is small and all are healing from illness/injuries, we will be closed for walk-ins until February. We know many people have been traveling and we want to limit any possibility of our visitors or our small staff getting sick. You can make an appointment any day from 1-5pm, and as long as we don't have another appointment scheduled, we'll be happy to assist you! 
To adopt an available animal, submit a questionnaire via our website ( www.whitmanpets.org/adopt ) and a staff member will be in touch to schedule an adoption appointment. To access any of our public assistance programs, please call us at 509-332-3422 or email us at shelter@whitmanpets.org to schedule an appointment!
Visitors must check-in and out with the office as we must limit the number of people in the building at once. 
Do NOT visit if you are sick, symptomatic, or have been exposed to COVID-19 in the past 14 days. 
All employees and volunteers who are on-site during open hours (1-5pm) MUST wear a face mask the entire time they are in the cat building and/or interacting with customers.  All visitors per WA State requirements must also wear a mask.  All people who are considered high-risk should not visit WCHS until we have received the "all-clear" as a county to resume normal operations.
The dog building will remain closed and locked. Visitors can only enter if accompanied by a staff member and ONLY if they are interested in adoption. We require you to fill out an adoption questionnaire prior to meeting any of our dogs.
 All people must maintain appropriate social distancing in the building. Visitors must follow the designated path in the building and cannot move to the next station until the person in front of them has moved on. Only one family/household should be at a station at once. 
Potential adopters only! If you are not considering adoption, please do not come just to pet cats or look around. We are happy to welcome these kinds of visitors once we have the "all clear" to resume normal operations. If you have not initiated the process within 15 minutes and another party arrives, you may be asked to leave to make room for a party that does intend to take an animal home that day. All visitors must sanitize their hands between each station and upon entering and leaving the building.
Staff will sanitize surfaces that are being touched frequently at least once every hour.  
For potential adopters: 
You must submit a questionnaire to view available animals. We still HIGHLY SUGGEST potential adopters fill out the application at home and bring it with them to meet the adoptable animals. This will minimize the length of time they are in the building and the items/surfaces they must touch significantly. 
News & Notes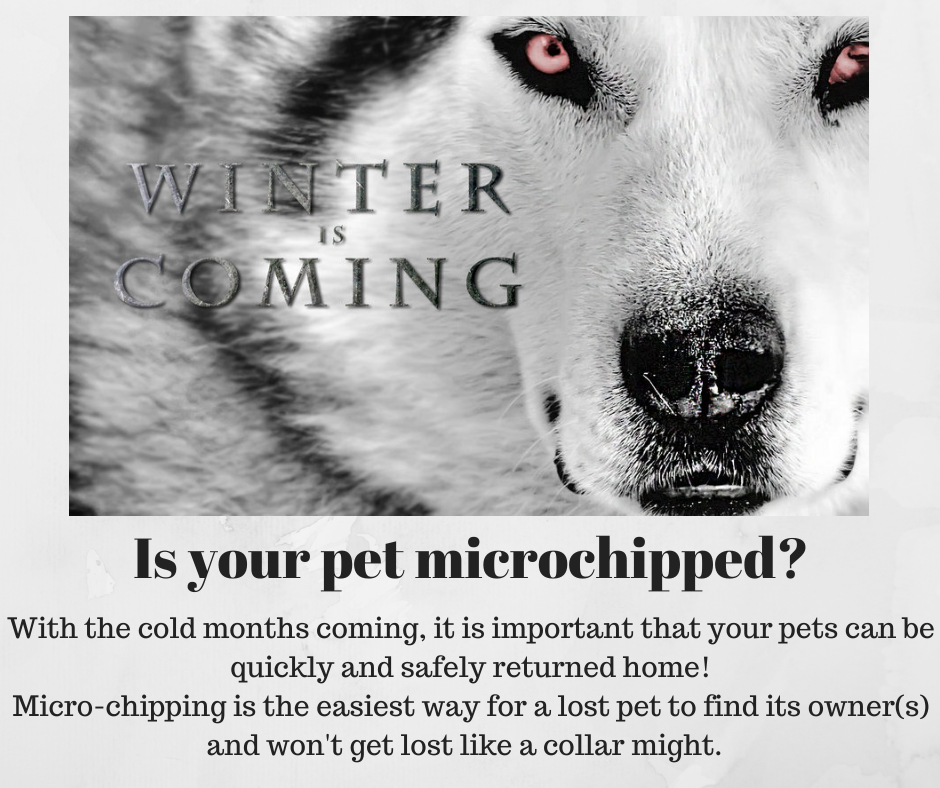 If your pet isn't microchipped, bring them in to get one today!
---