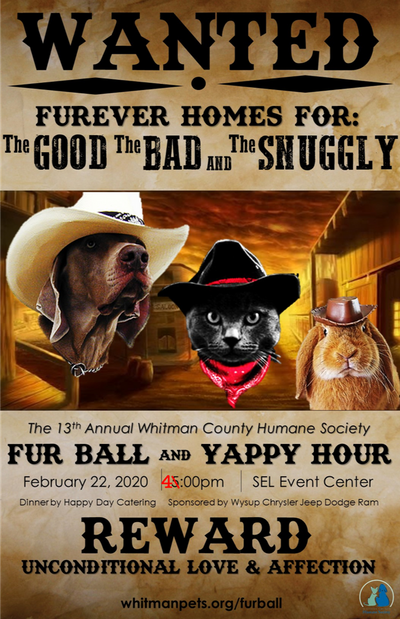 Fur Ball 2020 is only a month away!  
Please join us for the 13th Annual event with the theme of "The Good, The Bad, & The Snuggly".  
This year we took your feedback and made some changes.  People wanted more time to view our awesome selection of silent auction items so we are opening our doors at 4 PM instead of 5 PM.  The bar will be open at 4 so come early, check-in, grab a drink and peruse the auction rooms.  Appetizers and the remainder of the program will start at 5 PM and follow the normal schedule.  
We are still looking for event sponsors and donations for our auctions.  If you would like to participate please email furball@whitmanpets.org and we will provide additional details.  We still have quite a few tickets left for this event but don't hesitate as we typically sell out early!  
For more details please visit our Fur Ball page HERE.  
We can't wait to see you there!  As always, dressing up is encouraged!