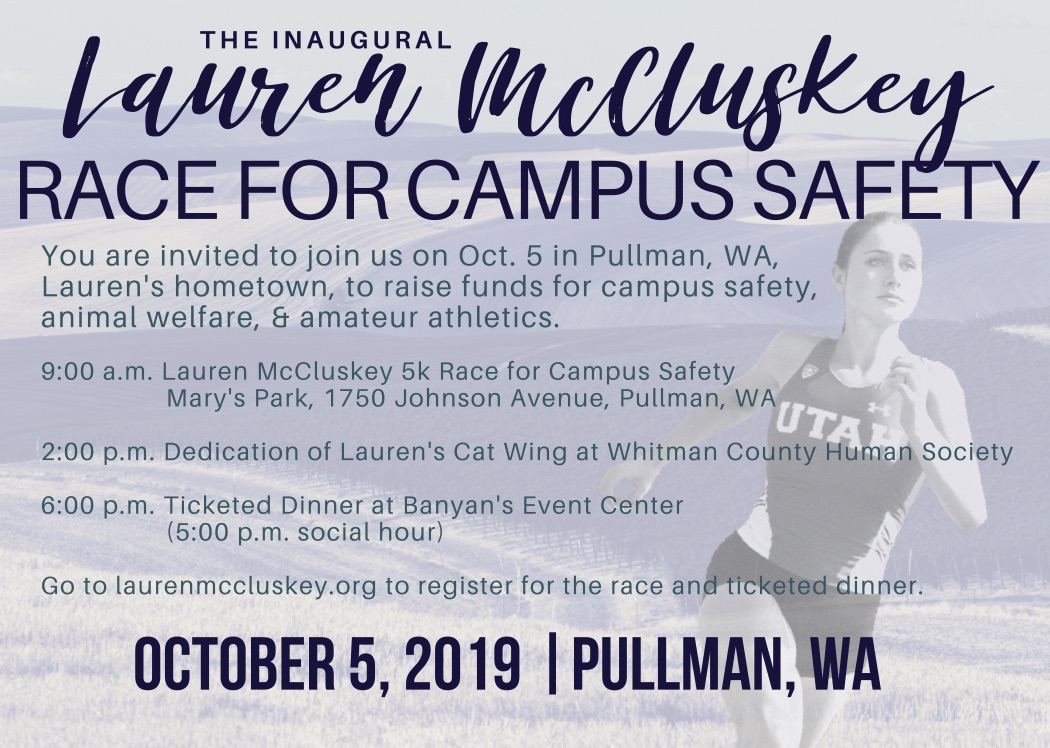 Whitman County Humane Society is honored to work with the Lauren McCluskey Foundation to support these events and honor Lauren's legacy.  
For additional information regarding these events and the Lauren McCluskey Foundation please go to laurenmccluskey.org. 
---
We encourage you to sign up for the 5k Race for Campus Safety which you may do HERE.  The race will begin and end at Mary's Park, which is a short walk from Whitman County Humane Society's Animal Haven animal shelter.  
When: October 5, 2019 at 9 am.
Where: Mary's Park, 1570 SE Johnson Ave., Pullman, WA 99163 (near the intersection of Johnson Ave. and Old Moscow Rd.)
Distance: 5k Run/Walk & Kids 1k Fun Run
Course Description: Mostly flat out-and-back course starting and ending at Mary's Park (close to the Whitman County Humane Society). The course heads towards downtown Pullman and then east on the Bill Chipman Palouse trail. 5k participants will then turn around near the Alpine Animal Hospital at the intersection of Terre View Drive.  The 1k Kids Fun Run course will be near the beginning of the 5k route.
Teams: Teams are welcome! There will be prizes for the fastest teams of 5-8 members and there will be corporate, collegiate, and high school categories available.
Parking: There will be some parking available near the start/finish line at Mary's Park. There are several hotels located within walking distance of the start/finish area. Shuttle buses from nearby locations will be provided if necessary.
Entry Fees
5k Individual: $25 before 9/21/2019, $30 between 9/21/2019 and 9/30/2019, $35 between 10/1/2019 and 10/4/2019, $40 cash only on day of race.
5k Team (5 – 8 members): $125 before 9/21/2019, $135 between 9/21/2019 and 9/30/2019, $150 between 10/1/2019 and 10/4/2019. No race day entry.
1k Kids Race: $10 until 10/4/2019, $15 cash only on day of race.
Sponsor your own donation campaign!  Registered individuals or teams are welcome and encouraged to start a donation campaign on the imATHLETE registration site to collect donations via the campaign site in support of the Lauren McCluskey Foundation.  Top individual and team campaigns will receive prizes and recognition at the post-race awards.
Sponsorship opportunities: If you are interested in being an official sponsor, contact Tim Fromm, Race Director: tfromm@laurenmccluskey.org