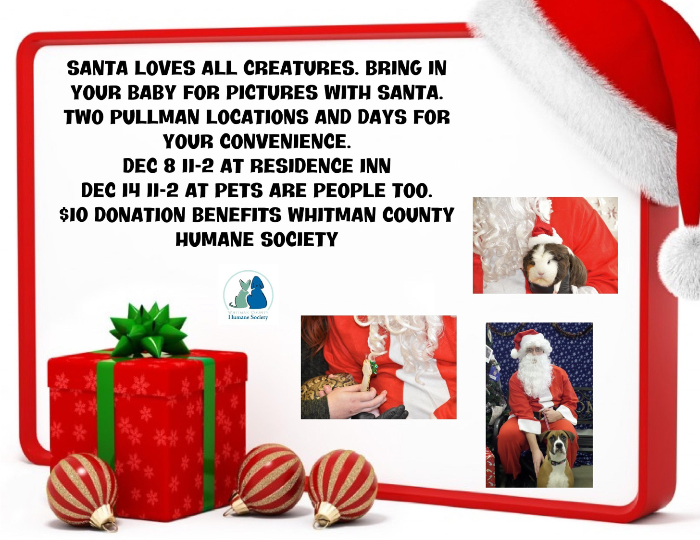 WCHS is bringing Santa to the Palouse once again!  If you would like to get a photo of your Fur Baby with Santa we invite you to join us at one of our locations.  Your pet will get to sit with Santa for a photography session and if you would like to join you are more than welcome as well!  All photos will be loaded to a site for you to preview and download the ones that you wish to keep.  These make great Christmas cards!  All we ask is that you consider a $10 donation that goes directly to the Whitman County Humane Society and helps support the homeless pets of our region.  
Residence Inn of Pullman  |  December 8th   |  11 - 2 pm
Pets Are People Too  |  December 14th  |  11 - 2 pm
If you have any questions please email shelter@whitmanpets.org.  Thank you for your support and we hope to see you at one of the events. 
How To Access Your Photos
Photos will be uploaded to Flickr.  You will need to login to access the photos.  
User: kymatwchs@gmail.com    Password: santapictures
Go to the 'You' tab at the top and then select 'Albums'.  To make it easier to find your photos, they will be separated into 3 different albums based on time of day.  The albums will be labeled 11-2, 12-1, and 1-close.  
From Flickr you can share your photos via social media and/or download them to your device.  
Special Thank You to Alex from Six Legged Photography for the amazing photos and support of WCHS!
Happy Pawlidays from WCHS!