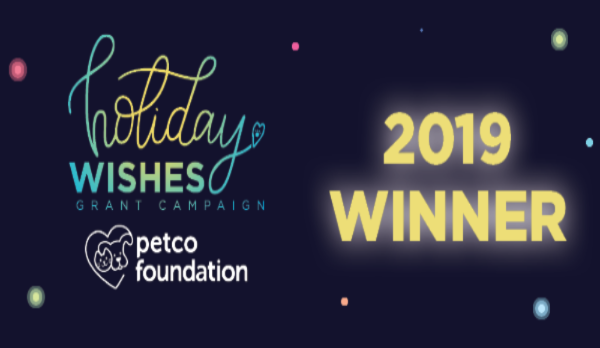 Vote to Help Whitman County Humane Society Win Up To $25K from the Petco Foundation
The public is invited to vote in the People's Choice Competition to help WCHS win up to a $25,000 grant award. 
The Petco Foundation has selected Whitman County Humane Society as a 2019 Holiday Wishes finalist. We're so excited to be named a finalist and now we need our supporters' help to vote for us in the People's Choice competition. Ashley, our Shelter Director wrote an excellent story about her adoption of Felix and has created this wonderful opportunity.  Ashely and all the staff work tirelessly to help all of the homeless pets of Whitman County and we are asking for you to help our holiday wishes come true by voting for her story and help us extend our lifesaving work this holiday season and beyond.
WCHS has the opportunity to earn up to an additional $25,000, but they need their supporters' help. From now through Dec. 20, noon CST, you can vote for your favorite Holiday Wishes story on petcofoundation.org/vote.  
The deadline to vote is Friday, December 20, 2019, noon CST. Winners will be announced late December. To view all 105 finalist stories and vote for a favorite, visit petcofoundation.org/vote.
Top 5 People's Choice Vote Recipients Will Receive:
One (1) First Place: $25,000
Two (2) Second Place Winners: $10,000 each
Two (2) Third Place Winners: $5,000 each
About the Petco Foundation
At the Petco Foundation, we believe that every animal deserves to live its best life. Since 1999, we've invested more than $260 million in lifesaving animal welfare work to make that happen. With our more than 4,000 animal welfare partners, we inspire and empower communities to make a difference by investing in adoption and medical care programs, spay and neuter services, pet cancer research, service and therapy animals, and numerous other lifesaving initiatives. Through our Think Adoption First program, we partner with Petco stores and animal welfare organizations across the country to increase pet adoptions. So far, we've helped more than 6 million pets find their new loving families, and we're just getting started. Visit petcofoundation.org to learn more about how you can get involved.
Since 2013, nearly $4 million in Holiday Wishes grants have been awarded to help make the holidays brighter for pets in need during the holiday season and year-round. For more information, visit petcofoundation.org/holidaywishes and join the conversation on social media using #HolidayWishes and #BrighterTogether.